EventSphere has been selected as a recipient of the 2018 Atlanta's Best and Brightest Companies to Work For.  This is EventSphere's 4th time receiving this honor. Each year, Best and Brightest, on behalf of the National Association for Business Resources, recognizes companies in Atlanta that are deemed most influential and trend-setting. For EventSphere President and CEO Todd Lambert, gaining recognition amongst local peers is both satisfying and a strong motivating force for the future.
"Receiving this honor is a testament to our leadership, our employees, our clients, and our determination to be the industry's best. It is rewarding to know that our employees hold our organization in such high regard. We have always strived to maintain a comfortable company culture, and it is satisfying to see the fruits of that labor."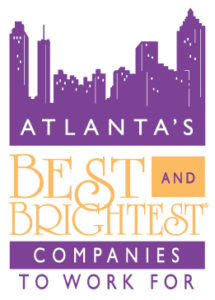 The 'Best and Brightest Companies to Work For' is awarded to organizations that display a commitment to excellence in both their human resource practices and employee enrichment.
Categories by which organizations are assessed include communication, work-life balance, employee education, diversity, recognition, retention, and more. EventSphere is one of only 46 small businesses to receive the award in 2018.
"It's a great feeling; knowing that we are hitting the mark in all of those areas. Especially being that there were less than 50 small businesses honored in Atlanta, and to be a 4-time recipient in a city where so many wonderful companies are located, it is really an honor," Lambert explained.
The National Association for Business Resources has been conducting Best and Brightest Company competitions for over 20 years and has provided benchmarking for companies that continue to be leaders in employment standards.
About The Best and Brightest Programs
The Best and Brightest Companies to Work For competition identifies and honors organizations that display a commitment to excellence in operations and employee enrichment which lead to increased productivity and financial performance. This competition scores potential winners based on regional data of company performance and a set standard across the nation. The program celebrates those companies that are making better business, creating richer lives, and building a stronger community. For more information, visit 101bestandbrightest.com.
Contact:
EventSphere
Christina Hodskins
404-998-9910
christina.hodskins@eventsphere.com